NIC Partners Inc. Named APC by Schneider Electric 2019 Territory Partner of the Year

Fifth annual awards program recognizes NIC Partners for excellence
Honorees earned distinction for delivering Certainty in a Connected World
At NIC Partners, we are dedicated to ensuring our customers have the infrastructure in place to power the digital world. We're proud to announce we've been selected as an APC by Schneider Electric 2019 Territory Partner of the Year, which recognizes our efforts to deliver simplified, powerful and integrated components and solutions for customers to help them achieve certainty in a connected world.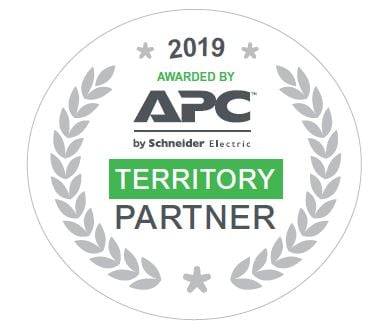 Now in its fifth year, the Territory Partner of the Year awards recognizes companies that are evolving their approaches to technology to ensure the infrastructure and networks needed to support customer needs remain secure and safe. We're among 19 companies that are being recognized for outstanding performance and growth in their work with APC by Schneider Electric.
"We are extremely proud to be named APC by Schneider Electric 2019 Territory Partner of the Year," said Frank Spaeth, Managing Partner, NIC Partners. "Especially now with the changed environment we're all facing, this award reinforces our mission of providing our customers with reliable, integrated solutions at an affordable price point. As a trusted seller of APC by Schneider and experts in technology and security, NIC Partners strives to deliver turn-key solutions to our clients that ensure their organizations continue to run, even when the inevitable happens. Reliability is even more important in today's world with so many of our customers dealing with new technology challenges because of the impact of COVID-19."
NIC Partners works with many clients who require reliable backup power to guarantee power and surge protection for their wireless networks, computers and other devices. For more than four years, APC by Schneider Electric's UPS battery backup has been our first choice to supply backup during outages and unsafe voltage fluctuation; and to provide protection from damaging surges and spikes. APC by Schneider Electric has been the perfect partner to deliver reliability and integration at an affordable price.
"This year's winners went above and beyond by demonstrating significant dedication to innovation and growth," Shannon Sbar, Vice President, Channels-North America, APC by Schneider Electric remarked. "We are proud to work with partners across the U.S. who are committed to not only meeting customer expectations but exceeding them. Congratulations to the 2019 APC by Schneider Electric Territory Partner of the Year award recipients."
NIC Partners is very proud of our partnership with APC by Schneider Electric and the work we've been able to accomplish together over the past four years. Interested to see how your organization can benefit from reliable backup power and surge protection? Contact us today.