NIC Partners Joins LACCD to Celebrate $15 Million Grant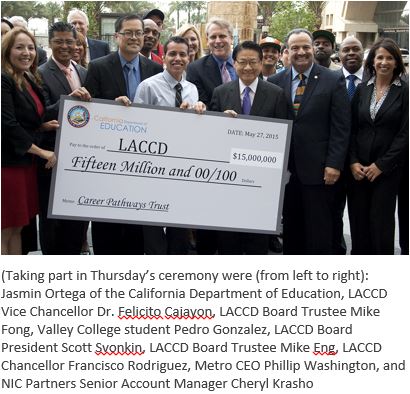 NIC Partners Joins LACCD to Celebrate $15 Million Grant
Last month, representatives of NIC Partners joined 115 people who gathered enthusiastically in front of Metro Headquarters at LA's Union Station. The occasion that inspired their enthusiasm was the official awarding of a $15 million grant to the Los Angeles Community College District by the California Department of Education. The grant, provided by the California Career Pathways Trust, will be used to advance academic and career technical education, connect employers with schools, and train students for jobs in high-demand fields such as information technology, advanced manufacturing, health care and software development.
"This grant will transform the lives of thousands of students," LACCD Board of Trustees Pre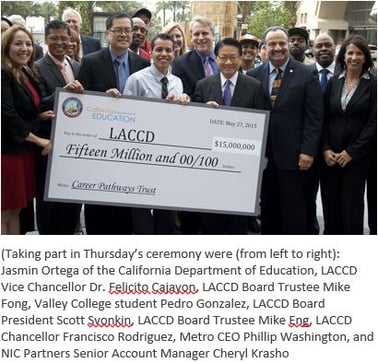 sident Scott Svonkin told the crowd. "Wherever their dreams take them, they can now go."
Business partners and supporters from local workforce investment boards, school districts, economic development agencies and labor unions were on hand to witness the occasion. Among the business leaders present were Phil Washington, CEO of Metro, Frank Spaeth, CEO of NIC Partners, and Tracy Rafter, CEO of BizFed.
The new program will be implemented by the Los Angeles Regional Career Pathways Project, which exists to bring together community colleges, high schools, unified school districts, labor unions, workforce investment boards, and industry-specific employers.
The program focuses on high-demand industry sectors that are projected to grow and offer job opportunities well into the future. The project includes over $1,700,000 of resources that will be used to benefit more than 6,000 participants, helping to equip high school and college students for good-paying jobs and solid careers. The Regional Pathways consortium will work with over 95 employers, like NIC Partners, to create internships.
Invited guest and speaker NIC Partners CEO Frank Spaeth stated, "Internships are now more critical to enter the workforce. More people are trying to compete with technical skills. Those who can exhibit the right blend of technical/hard skills with soft skills will be the most successful in securing a good paying job and career."
With funding from the Career Pathways Grant, NIC Partners will be a strategic partner and play a key role in training students from local high schools and LACCD colleges, preparing today's students to become tomorrow's leaders.
"I have 15 million reasons to be happy," remarked LACCD's chancellor Dr. Francisco Rodriguez. "Today is a day of investment. You, our value-added partners, are the wind in our sails. Now, let's get to work. Our students deserve it."